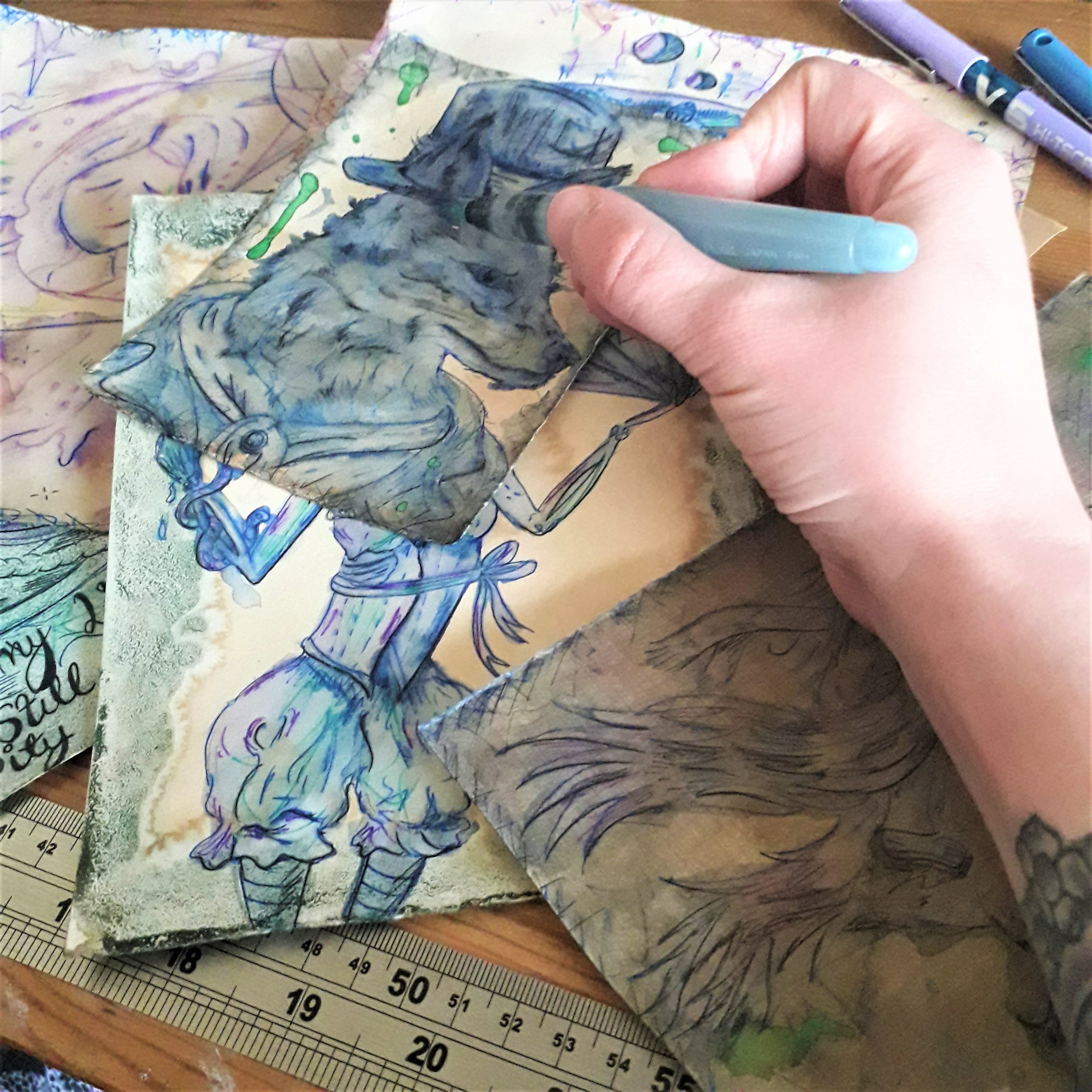 I currently charge a fixed rate of £15 per hour + materials for custom work.
Books Open Close 30th April 2023

I've made the difficult decision to close down my business this year. I'll take on as many commissions as I can, with the goal to complete all bookings by Octber 2023.
I won't be booking in any more projects after April 30th.
Bookings are confirmed with a deposit, which must be paid before April 30th. Deposits are non refundable.

Split payments are accepted. You completed commission will not be shipped until payment has been recieved in full, including postage fees.


. . .
Commissions Speil

    Commissions are worked out on a per order basis. The following info is a rough guide, if you'd like a custom quote, pop me a message with as much detail as possible about what you'd like creating.
    In my opinion, the best commissions come through good communication. By being open with me about your likes, dislikes and interests we can bounce ideas back and forth to come up with something truly magical.

Things to consider before we have our chat;

*Subject -is this to be a pet portrait? A deity? A memorial? Inspired by your favourite story or a location…?
  -Tell me all about it. It's story. What it means to YOU.
  -This can be as simple as "I want a pretty flower. Flowers make me smile." to "I want to honour a loved one and a list of 100 things they loved and what they meant to you"
*Take a look at some of my previous work and make a note of what draws you personally to my work. Why have you chosen me as an artist to make this piece for you?
*Are there features in my other work you'd like me to incorporate?
*What are your favourite colours?
*Would you like a decorative border?
*Are you interested in symbology? Certain patterns, animals, flowers, and crystals have hidden meanings.


-I do not charge for the initial consultation, or for the time spent researching and sketching up initial ideas-
Pricing;
£15/ hour    + Materials   + Postage
(Split payments available upon request.)

Rough Estimates
(Once I know the sort of work you'd like I can give you an accurate quote. Your custom quote is a capped rate. If my time exceeds what I quote after your consultation, you will not receive any extra charges. If my hourly rate goes up after you've paid your initial deposit, you will remain capped at the current hourly rate and no extra fees will be charged.)

A6 Size (148 x 105mm)
1.5 hour   £22.50
+Materials £5

A5 Size (148 x 210mm)
3 hours    £45
Materials £10

A4 Size (297 x 210mm)
8-15 hours   £120- £225
+Materials £20

A3 Size (420 x 297mm)
20-35 hours    £300- £525
+Materials £32

A2 Size (594 x 420mm)
40-70hours     £600-1,050
+Materials £42


*Please note that the time estimate is not the only factor in how long it will take for your finished piece to reach you.
-Due to the nature of the materials I use; there is a lot of layering involved, and time is needed for the work to dry in between each layer.
-I also take on several projects at once, & complete work around prepping for online & in person markets, amongst the menagerie of other parts of being the one woman team running Orange Fruitcake Arts.
Upon booking, I will give you a time estimate of how many weeks/ month's it will take for your commission to be completed. I will also give you regular updates throughout the open project.



The small print;
*Deposits are non refundable
*Work will not start until I have received a 25% deposit
*Split payments can be arranged upon request. Split payments will be processed through my website as Custom Listings just for you. (unless agreed otherwise)
www.orangefruitcakeart.co.uk
*Your order will be shipped once payment has been received in full. 
To talk through your design ideas; contact me on my social media pages, or e/mail